Paquet de batterie d'ion de lithium de 72V 20Ah
Le paquet de batterie d'ion de lithium de 72V 20Ah est type de batterie de Li-ion dans 20S. Ce pack de batteries lithium-ion 72V 20Ah est assemblé avec une batterie 18650 2600mAh sous haute performance. Nous testons tous les packs de batteries au lithium-ion 72V 20Ah avant la livraison pour s'assurer qu'ils sont bien performants lorsque vous les recevez.
Model

72V 20Ah Lithium Ion Battery Pack

Size


Customised

Weight

≤11Kg

Nominal capacity

20Ah

Nominal voltage


72V

Internal resistance:

≤15mΩ

Energy density

≥180Wh/kg 0.2CDC

Volumetric energy density

≥360WH/L 0.2CDC

Discharge cut-off voltage

55V

Charge voltage

84V

Standard charging

0.2C constant current charge to 84V, then constant

voltage 84V charge till charge current decline to≤0.05C

Standard discharging

0.2C CC discharge to 55V.

Max.continual charge current

5A

Continual discharge current

1C

Max. Charge/discharge pulse current

3C

Operating temperature

Charging: 10~45℃
Discharging:-20~55℃

Storage temperature

Less than 1 year: 0~25℃

Less than 3 months: -10~45℃

High temperature performance

0.5C capacity higher than 98% of nominal capacity at 55℃

Low temperature performance

0.2C capacity higher than 70% of nominal capacity at -20℃

Standard charge/discharge cycle life

Cycle life of standard charge/discharge capacity

after 2500 cycles greater than 60% of initial capacity


Pourquoi Grenergy?
Offrez des solutions d'alimentation à un arrêt, économisez du temps de conception et réduisez les coûts pour le client
- Conception de pack / Conception de cas externe / Conception de BMS
Strictement système de contrôle de qualité, améliorer la compétitivité du client
- Test 100% PCM par IQC
- Test de capacité 100% par OQC
Livraison à temps et excellent service
- Livraison rapide en 10 jours si stock
- Réponse de 8 heures et solution de 48 heures
Équipe expérimentée de R & D, être le consultant professionnel de solution de puissance du client
- Centre de test de batterie complet (test de sécurité et fiable)
- Puissante capacité ODM à développer par des demandes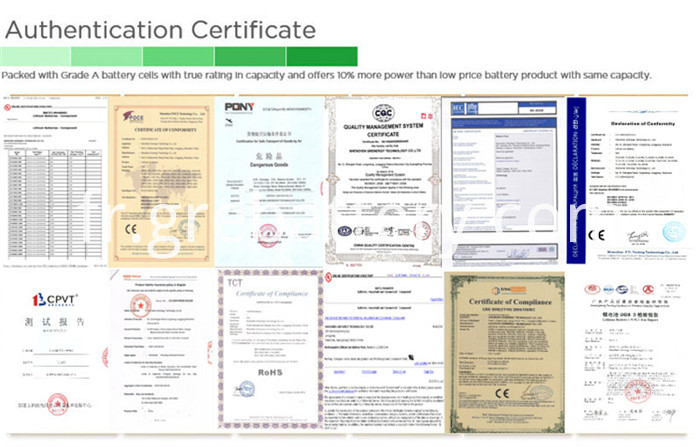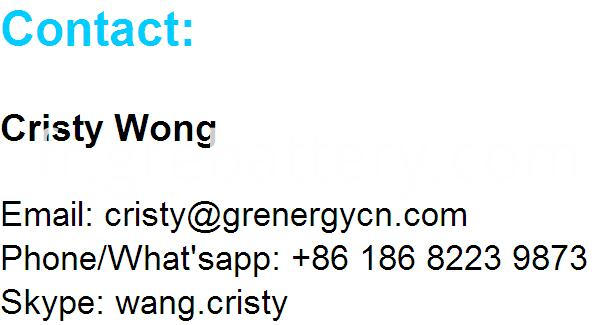 Groupes de Produits : Vélo électrique batterie